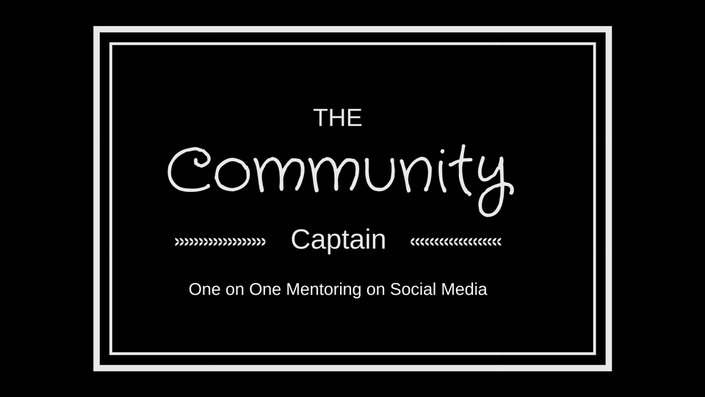 Community Captain: Private Social Media Mentoring
SIX PRIVATE ONLINE Social Media MENTORING SESSIONS
Invitation: Would you like your Facebook Page reviewed? Tips on tweeting? Feel like your LinkedIn needs a bost? Join me in a private one-on-one online session, make sure you send me your Facebook Page URL, or your Twitter handle or your LinkedIn profile or your Instagram IGTV so I can spend some time investigating and then I'll spend time walking you (in a screencast) through some improvements you can make to get more engagement, followers or call to actions completed. Up to you.
You get:
Six sessions with me, one-on-one, answering your questions. Your own private social media strategist!
Recordings of our chat including the live video walkthroughs I do. Keep them!
Any workbooks or additional lectures I think will help
This is not the Community Crew which is structured by me for the group, but a private block of sessions for you to decide what you want to improve. Yes there is still homework!
If you prefer self paced learning with 25+ courses, see the Community Club - that's fine, but that's not this course. Private one-on-one mentoring clients, you choose the topic or we'll choose it together.
For corporate/group membership (more than one staff in the group) or for a Proposal for your Finance team, please contact [email protected]
Please note, if you are a member you will have access to the sessions, if you cancel membership you will not. Please sign up when the Membership is public (we do not add members once the course has been made private but will waitlist you for the next small group) as the groups (and time) are limited. Once someone drops from the program the next waitlisted person will be invited.
Pricing and Start Date
This "course" starts when you pay and then you have two weeks to contact me to book your first appointment. Please use the 6 appointments within 6 months or contact me and let me know life has caught up with you! We'll arrange an extension if you talk to me within the 6 months, no extension if you don't!
6 Sessions Pack. Normally $350 a session, now $300 a session.
Your Instructor
Join the 11,000 students that study with me online, the 10,000 social media professionals I have trained offline in the last decade and work on your social media and online community management skills!
Forbes Magazine named me in the Top 50 Social Media Influencers globally,named head of media, social media by Marketing Magazine and in the Power150 AdAge Media bloggers. I strive to show the theory/strategy with practical tactical tools in online community building.

I am a CERT IV Training and Assessment certified trainer (Diplomas and Certificates etc) and I also have taught a Masters of Convergent Media.

Professionally, I have managed Facebook Pages for Junior Masterchef, Idol, Big Brother etc. and have consulted on private online communities for banks, not for profits & governments in SE Asia. I have taught social media for businesses at University of Sydney for 10 years and I have 11,000 online students. My clients range from UNHCR and TV shows to small businesses and Women Matter (Saudi Arabia Women of Islam community).

I have a quarter of a million followers online, personally reaching around 6 million people per month through social media. I have taught around 100,000 people in the last 10 years how to build online communities, create social media content, write strategy documents, drive social media campaigns and improve their Facebook Page through FBO and earned attention.

More, much more information on Laurel Papworth's About page.



Frequently Asked Questions
How Do I Contact Laurel?
You can email Laurel's PA (Fiona) on
[email protected]
Mail goes to PO Box 32 Mount Victoria, NSW, 2786 Australia.
When does the course start and finish?
Most courses start now and never end! It is a completely self-paced online course - you decide when you start and when you finish. Others are Instructor Led and have a start and finished date. Check! The real life classroom usually start at 9:30am and finish at 5pm. Uni starts 9am.
How long do I have access to the course?
Most courses are lifetime access. Real life courses may have an online component - please check - that has lifetime access. Challenges may be for the life of the challenge - 30 days for example. Check!
What if I am unhappy with course?
We would never want you to be unhappy! If you are unsatisfied with your purchase, contact us in the first 7 days and talk to us about a full or partial refund.